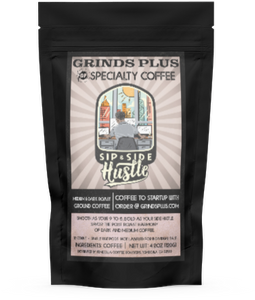 Are you a startup founder funding your project with your day job? Have you embraced the flexibility of working from home and turned it into an opportunity?

This coffee is specially crafted for you, the relentless side hustlers who never clock out. You're always grinding and there's no time for a nap! Sip & Side Hustle is a medium roast South American blend of specialty grade coffee to keep you caffeinated as you navigate your day shifting gears from day job to pursuing your passion. As always the beans have been ethically sourced to ensure the farmers who produce it can make a living wage.

As Oprah once said, "Do what you have to, until you can do what you want." With "Sip & Side Hustle" by your side, you'll find the unwavering energy and focus needed to navigate the challenges of balancing work and passion. So grab a cup, take a sip, and let the aromatic notes of success fuel your ambition. It's time to rise and grind with "Sip & Side Hustle." Your dreams are within reach.